Preparation 8 - Flower awakening
Rediscovering a flower and its simplicity, recreating it, giving it a new life in an artistic and culinary context. This is the aim of the sous chef Francesco Bogetti from Opificio Cucina e Bottega, for the current issue of Special care to the Table by Sambonet.
Basic rice dough recalls the extended fields of Novara, the pollen, together with the tomato pureed soup, naturally recalls colours and shades proper of the water lily.
Special framework for this Flower awakening the Madame collection footed cup in its precious PVD Rum finishing: an elegant table accessory perfect for haute cuisine's presentation.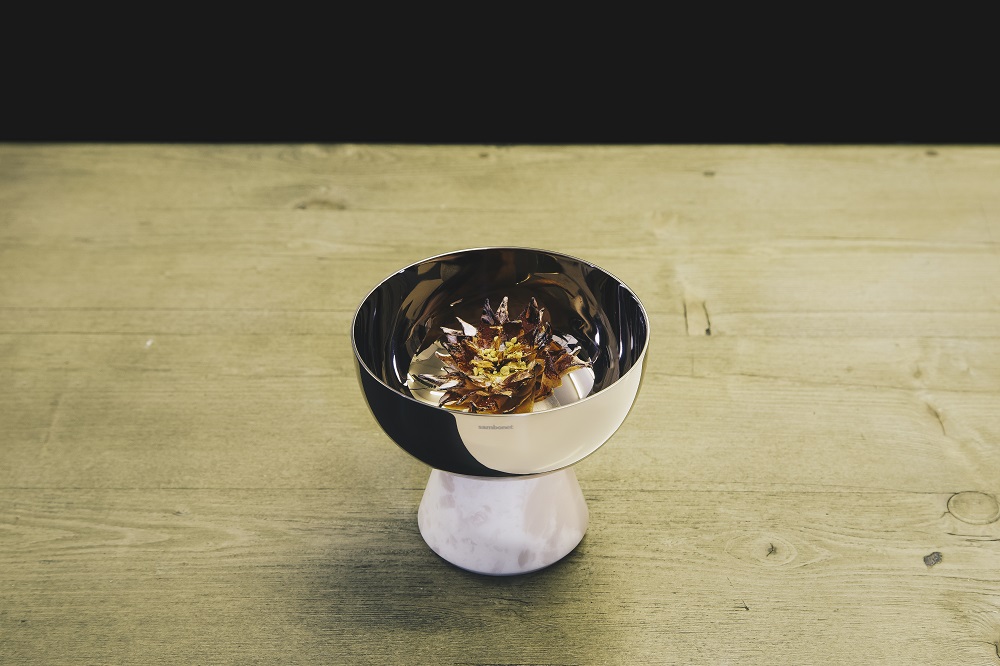 The preparation
Beetroot pasta
125g rice flour
65g flour 00
100g egg yolk
10g beet juice
5g salt
6g oil
For the beet juice, vacuum the vegetable at 80 degrees for 6 hours, blend with a little water and sift. For the dough, add the ingredients, leaving out oil and salt, which will be added at the end to complete the process. Once the coloured paste has been obtained, divide it into 4 pieces. Re-paste each part with an addition of beet juice to give different shades of red. Roll it out finely and cut with the flower-shaped pasta cutter of different sizes. Cook the pasta flowers in boiling salted water for 3 minutes and drain in water and ice. Dry the dough giving the shape of the flower using ramekins or tartlet moulds. Overlay the dried flowers in a staggered manner, add in the center the dried tomato skins finely chopped.
Tomato pureed soup
Peeled tomatoes 200g
Tabasco 2 drops
Warchestershire 2 drops
Cook the peeled tomatoes at 80 degrees for 40 minutes and at the end add the drops of Tabasco and Warchestershire and filter.
Decoration
Food dyes
Pollen
Dried tomato peel
Finish the dish by placing a veil of velvet on the bottom of the dish, finish the pasta flower with the pollen in the center and brush the yellow tomato peels to enhance the pistil.