25,000 square meters, 17,000 references and shipment in 24h.
A company that distributes worldwide needs precise, fast, reliable and flexible logistics. These are precisely the characteristics of the Sambonet warehouse. The warehouse is located on the production site in Orfengo where up to 800 different shipments, by quantity and type, are prepared every day.
Covering 25,000 square meters and 17,000 references, having a highly efficient management system is essential. In recent years, the warehouse has undergone a real revolution and has transformed into a cutting-edge company in Europe.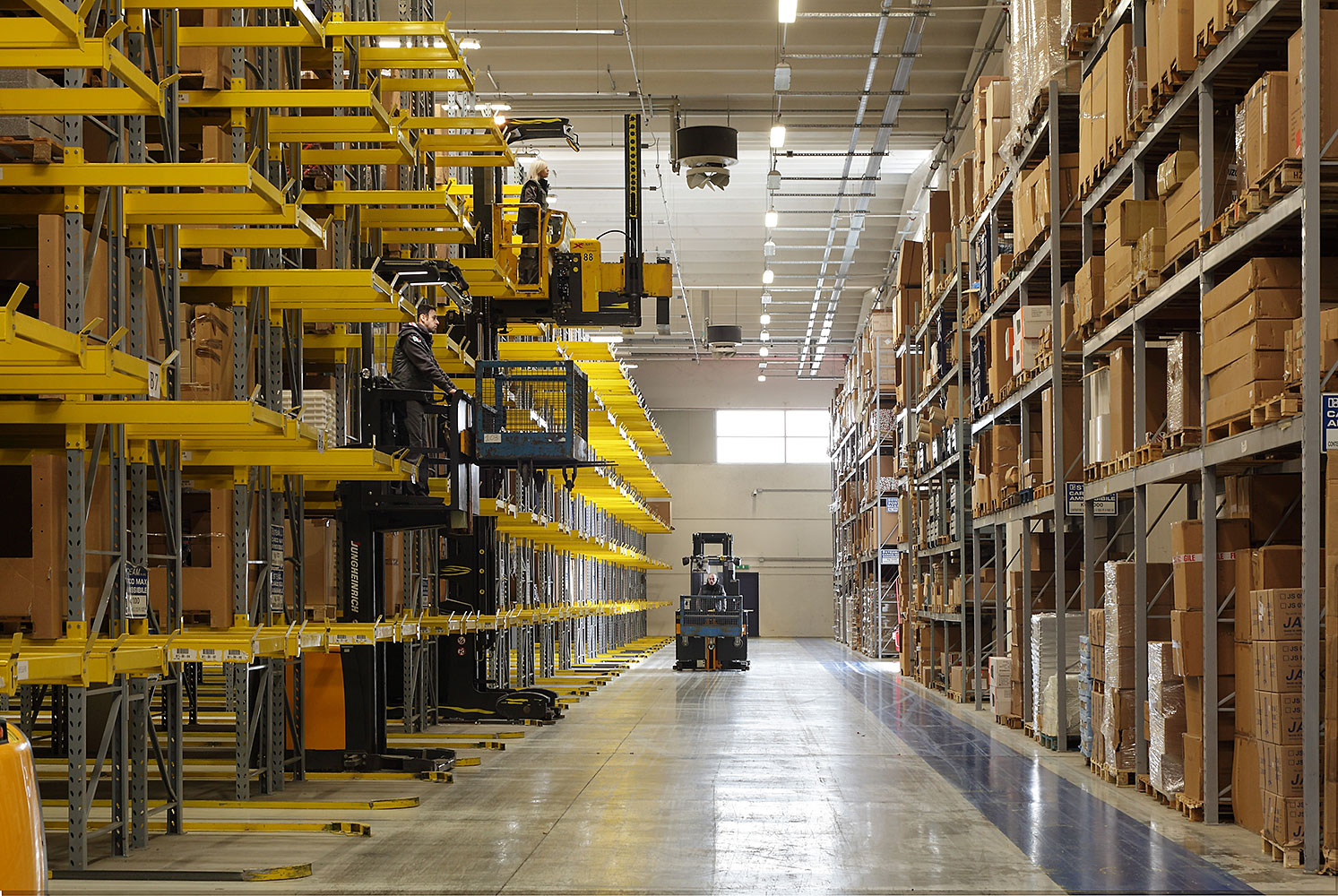 High rotation warehouse with forklift trucks in action

Porcelain warehouse
"We are like a tailor who every day adapts to every client's needs" – explains Francesco Chianese, head of the department. "Smart and quick when it comes to small orders, organized and dynamic when it comes to larger ones. With the order for the Centre International Conferences of Algeri, for example, we had to handle 200,000 kilograms of goods. We reserved a fixed dedicated workstation, as to not disrupt or neglect the work that needed to get done daily".
The warehouse has seen incredible growth which has involved various factors: technological innovation, attention to the environment and simplification of the work of the personnel involved, keeping safety at the forefront.
The introduction of new pallets in recyclable plastic, as well as the replacement of iron staples to close packages with a special adhesive tape are only a few of the evolutions mad. "Today, our packaging is totally Green", continues Chianese.
Furthermore, new technologies to keep employees safe and protect their health have been introduced. One of these is a special machine that is able to lift heavy boxes up to 40 kilograms without any effort. Another is the introduction of an ergonomic rug that optimizes the unloading process, avoiding any strain on the workers' back, arms or legs.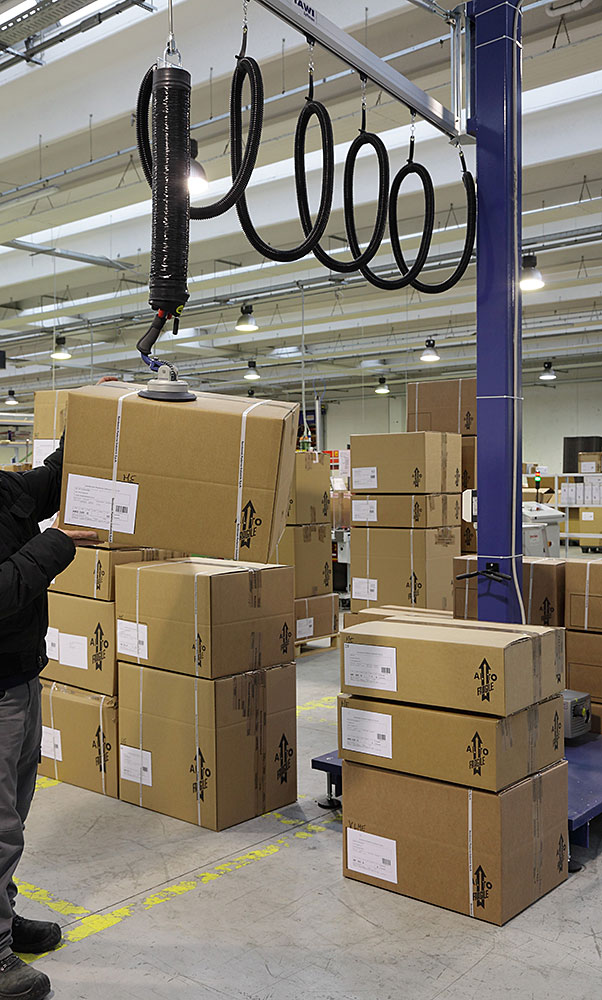 Vacuum manipulator
Moreover, the daily inventory allows to check constantly all the stocks, accelerating the items picking.
These different innovations bring with them improved performance. In the past 12 months, there has been an increase in the items picked per hour - from 27 to 47 - , while at the same time diminishing errors. The resulting increase in system efficiency has also played a big role in reducing the stress typical of hectic order shipping activity.
This department is a winning combination of human factors and technology. "My goal is to eventually create a semi-automatic warehouse in which people and machines work together" – continues Francesco. "My team is extremely cohesive and because of the job rotation system, everyone has the possibility to perform each task. By doing this, I can understand the strengths of each person and find the best way to channel them. I'm the first one to go out onto the playing field: it's important that everyone works the same way, with the same energy and passion that characterizes us".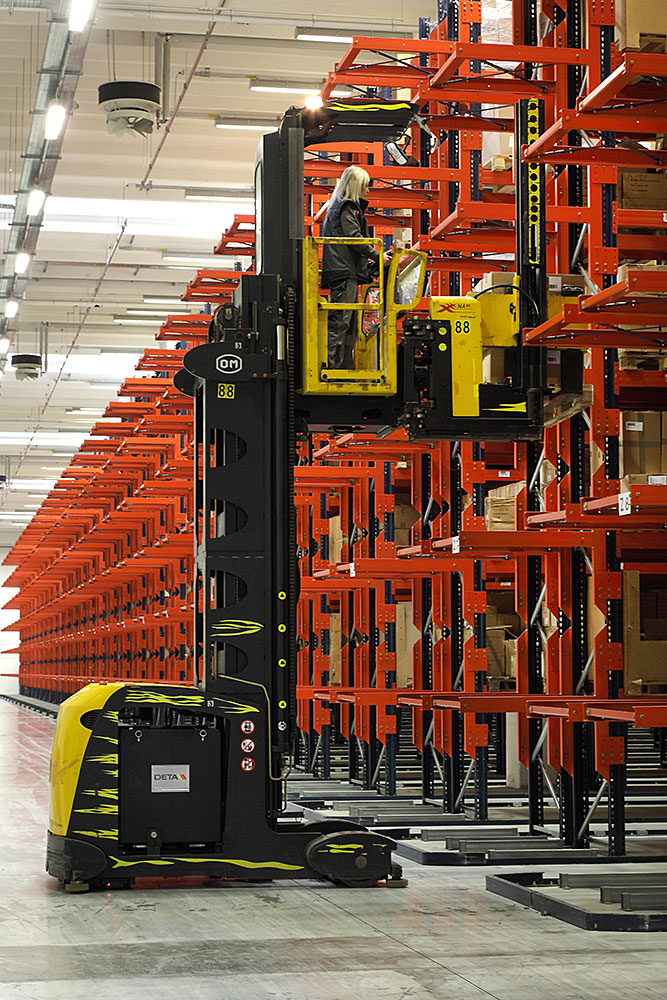 The trilaterla fork-lift can reach 8mt height