Preparation 3 - Primavera
Spring is coming and it brings about the issue of this month for Special Care on the Table. Between the blooming trees and flowers Primavera – Variazioni Vegetali comes alive thanks to the creativity of Giulia Reiso from Opificio Cucina e Bottega, Novara.
This is a culinary preparation where vegetables are worked in order to obtain different densities and flavours. The freshness of ingredients awakens your palate as spring awakens the senses.
A triumph of colours and flavours shown on the fresh and blooming texture of the Brillance Fleurs Sauvages by Rosenthal.
The preparation:
Red onion
1 Tropea red onion
100gr water
100gr sugar
100gr vinegar
100gr white wine
1 bay tree leaf
Sweet and sour preparation: boil water, sugar, vinegar, wine and bay tree leaf. Peel the onion and immerse it in the sweet and sour preparation. Parboil for 7-8 minutes in order to soften the petals. Cooled them in water and ice. Once they are cooled, put them in the liquid and marinate for a night.
Red turnip:
1 red turnip
Vinegar qs
Roll up the red turnip into the aluminium foil and bake it for 50 minutes at 180°. Once it is cooled, peel it and slice it. Put the slices in a container and cover them with vinegar. Marinate for two hours.
Mayonnaise of red turnip:
20gr egg yolk
100gr peanut oil
5gr lemon juice
2gr salt
100gr cooked red turnip
Emulsify egg yolk, vinegar, salt and oil. Blend the cooked red turnip and mix it with the mayonnaise.
Mint water:
40gr fresh mint
Sparkling water qs
Blend the mint with water and ice, until you got a liquid mix. You'd activate the mixer step by step in order to not oxidise the preparation. Filter the liquid with a small colander and conserve it in bain-marie with water and ice.
Cedro powder:
1 cedro
Grate the cedro peel and dry it out.
Finishing touch:
Maldon salt
Edible flowers and herbs
Decor with drops of red turnip mayonnaise, the petals of onion and those ones of red turnip. Sketch the plate with the water mint and add qs bergamot powder, Maldon salt, herbs and flowers.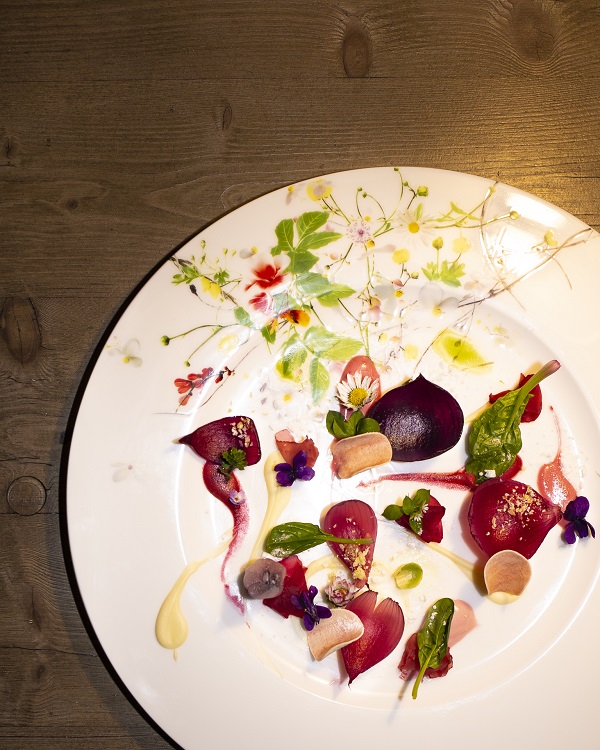 Opificio Restaurant – Novara | Ph. G. Barzaghi