Preparation 6 - Play with me
Play with me: sweet and fresh receipt for the incoming summer. Nevermind and playful dessert by Marta Loiacono, pastry chef for the Opificio Cucina e Bottega – Novara.
With this preparation Marta invites you to play, personally describes it as a "culinary leisure". A child game that finds its aesthetic expression in the minimal design of this dessert: its straight lines meet those one of the exclusive In.Situ plate from Aida collection, designed and created by Rosenthal together with the Michelin starred Corey Lee Chef.
A composition that let you the opportunity to play and have fun.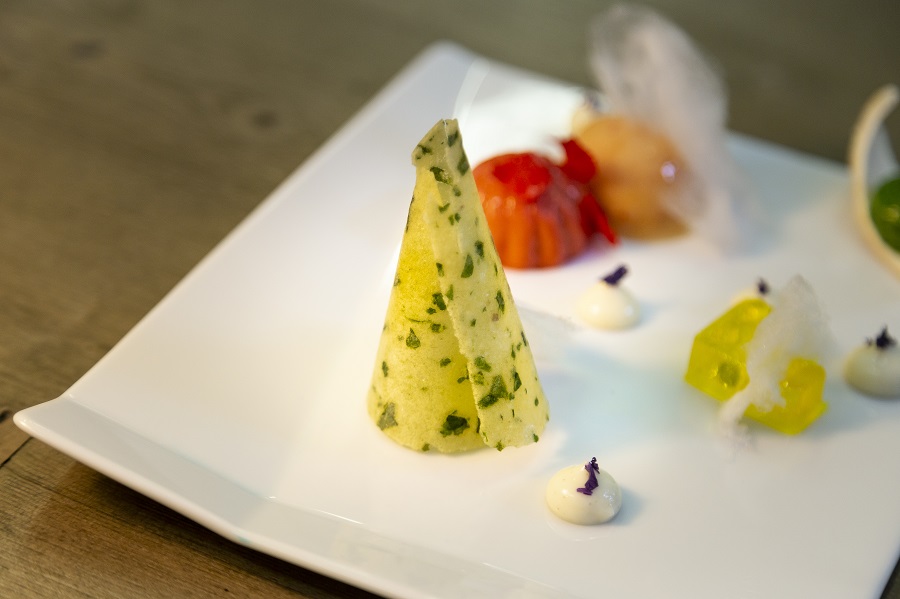 Restaurant Opificio – Novara | Ph. G. Barzaghi
The preparation
Mint toille
80 g water
30 g seeds oil
10 g flour
15 g mint leaves
1 g ginger
Make a dough with all the ingredients. Mix and cook it at 200°C for 4 minutes in a static oven. Roll up the dough and let it cool.
Saffron gelatine
Gelatine 5 g
Saffron infusion 200 g
Sugar 50 g
Mix the saffron infusion (about 1 g) with the sugar and boil it. Hydrate the gelatine and dissolve it in the hot mixture. Dress it and cool it down in the fridge.
Rhubarb sorbet
Rhubarb puree 500 g
Sugar 200 g
Lemon juice 10 g
Water 200 g
Mix and emulsify the cold ingredients. Freeze the mixture for at least 12 hours. Blend the frozen mixture and create some spheres. Add the semi-whipped cream when the mixture has reached about 30°C. Pour the mousse into a special silicone form and cool it down at -38°C.
Peach cream
Cream 330 g
Peach puree 198 g
Gelatine 12 g
Water 60 g
White chocolate 60 g
Butter 81 g
Heat the cream and the peach puree and mix them with the previously hydrated and melted gelatin. Mix the warm mixture with white chocolate and butter. Cool the cream down for a night in positive.
Mint jelly
Mint infusion 100 g
Sugar 100 g
Agar-agar 3 g
Boil the mint infusion (about 10 g) with the sugar and agar-agar. Dress it in the silicone forms and cool it down. Serve at fridge temperature.
Vanilla biscuit
Albumen 100 g
Sugar 100 g
Powdered sugar 100 g
Biscuit flour 100 g
Vanilla 1 bean
Whip the albumen and mix it with the sugar and the vanilla. Add the powdered sugar and flour to the mixture and assemble the mixture. Dress on silpat and cook it at about 180°C for 9 minutes.
Lavander ganache
White chocolate 100 g
Whipped cream 100 g
Lavander 30 g
Heat the whipped cream with the lavender in infusion. Add the warm mixture to the white chocolate and mix them well. Filter and cool the mixture down in the fridge. Use as a pastry bag.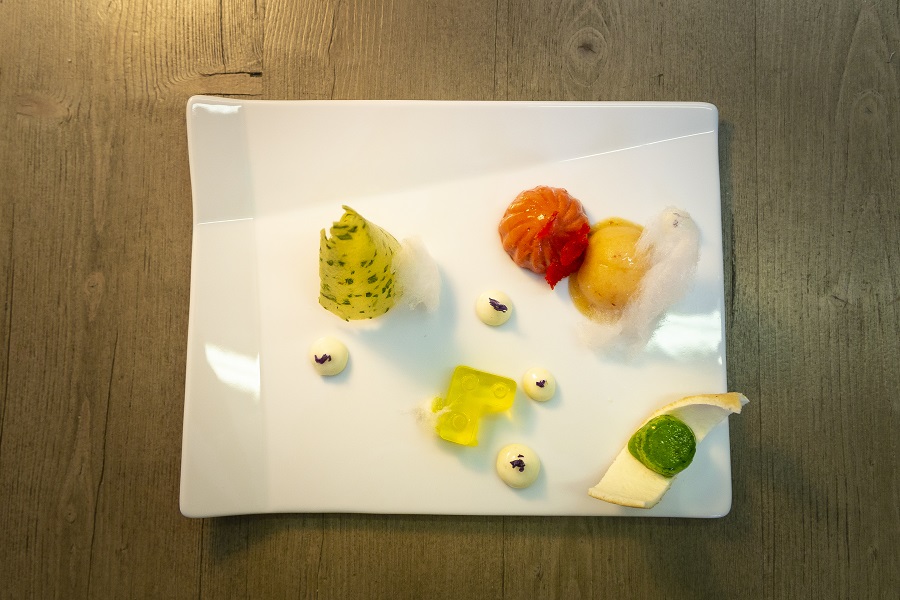 Restaurant Opificio – Novara | Ph. G. Barzaghi