"This is the new way of thinking about these tools, flatware, in their perfect form: knife with short blade with a slanting outline, fork with short prongs and a little concave shape."
With these words, in 1951, on the occasion of the presentation at the 9th edition of the Triennale exhibition in Milan, Gio Ponti described his projects. The rationalism which has been a fil-rouge in every concept by Gio Ponti is present in the concept of the flatware too, for whom the architect/designer has studied, summarized and emphasized the formal features of the product.
In the new project of Conca flatware, Sambonet has made concrete the principles of Gio Ponti's theory, according to which functionality and human habits determine the shape of every-day life objects. Through a careful anthropological study, the designer had developed a precise design for each item of the collection. Therefore the knife has a short blade, because "we are used to cutting by using only the point of the blade, slanted on the plate"; the fork has small prongs and a concave shape, because, always according to Gio Ponti, "to pick up the bite we usually use just the tip of the teeth, while the sauce can be collected in the concave outline of the fork".
Sixty years later, Sambonet gives new life to Gio Ponti's project, by realizing a flatware collection characterized by an original asymmetry, which expresses the state of being contemporary that only works of art are able to convey unchanged across time.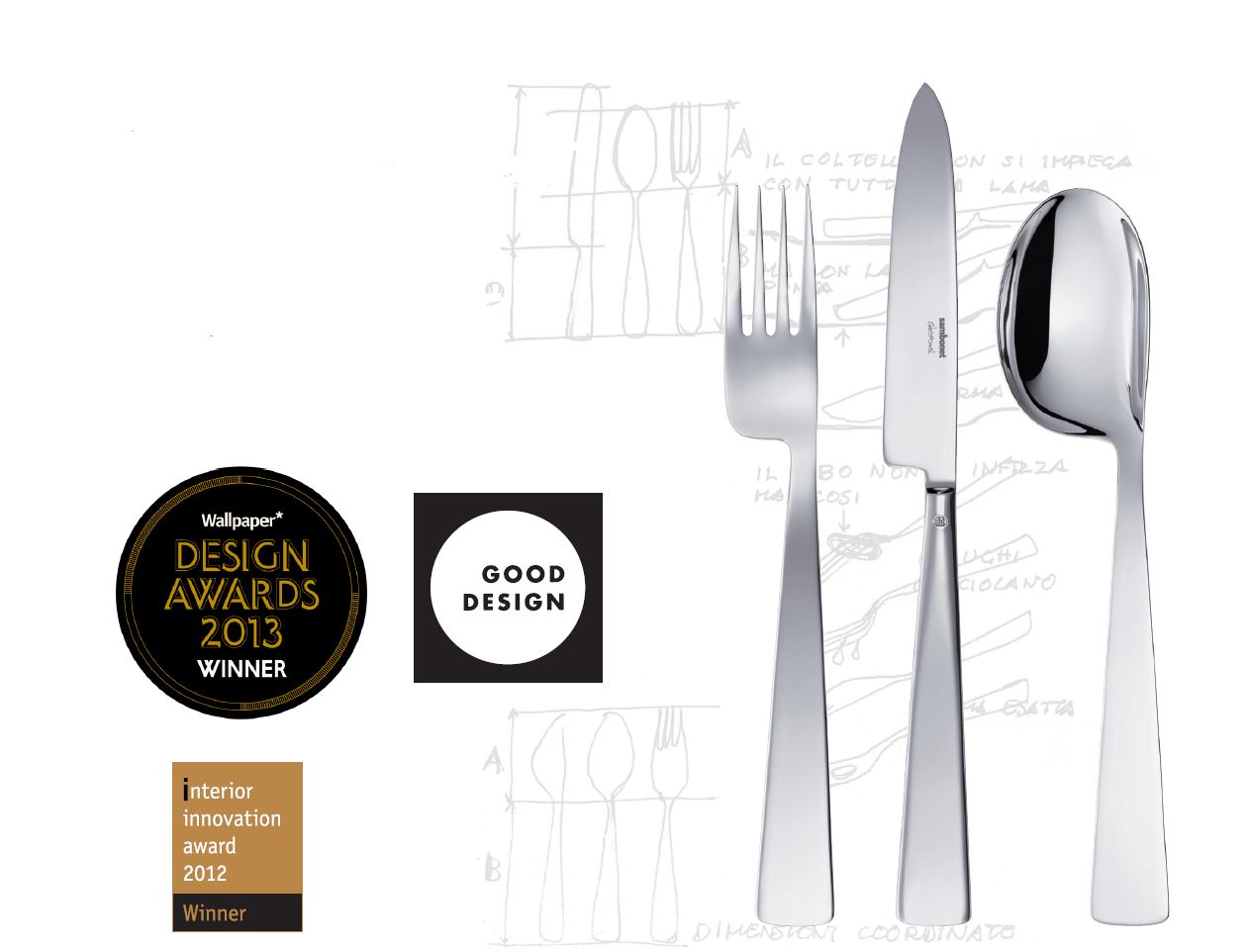 BIOGRAPHY
Gio Ponti was born in Milan in 1891. In 1921 he graduated in architecture at the "Politecnico di Milano" University and began his professional activity in association with other architects of Milan. In 1923 Gio Ponti made his public debut at the first Biennial Exhibition of the Decorative Arts in Monza, which was followed by his involvement in organizing the subsequent Triennial Exhibitions of Monza and Milan. Following his commitment to the ceramics manufacturing industry, in 1928 he founded the "Domus" magazine. From 1936 to 1961 he was professor at the faculty of Architecture at the "Politecnico di Milano" University.
Father of the design made in Italy, Gio Ponti is the greatest exponent of Italian rationalism: through his constant architectural search one can find an extreme synthesis and formal balance in all his works.