Preparation 1 - Dubai Marina
Dubai Marina takes inspiration and its name from the residential district of New Dubai.
The preparation aims to represent textures, flavours and colours of an opulent and modern city, linked to tradition, represented in the dish by elements of the earth such as pumpkin and chickpeas.
Tasty contrasts presented by the Sous Chef Borsari - Opificio Cucina and Bottega Restaurant, Novara - on the «waters» of Rosenthal Junto Aquamarine: circular blue shades reflect the infinite variety of the sea and its depths.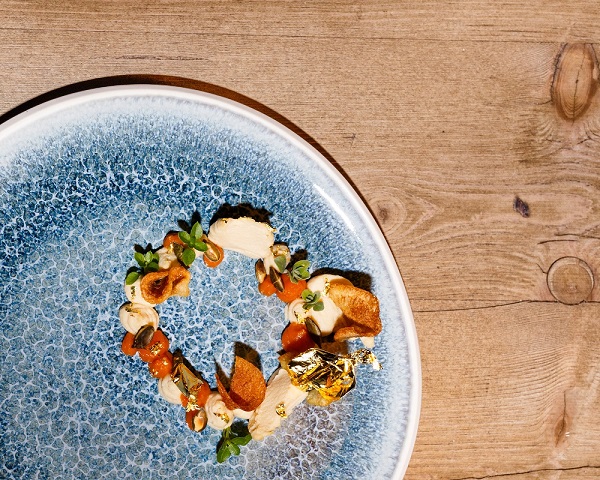 Rest. Opificio – Novara | Ph. G. Barzaghi
The receipt:
Hummus of chickpeas
Chickpeas cotti a vapore 300 g
Lemon juice 45 g
Garlic 1 clove
Broth 350 g
Paprika 1 spoon
Seed oil 15 g
Pepper qs
In a pan, add oil, salt, chickpeas, garlic and broth. Cook for 1 hour on low heat. Add lemon and mix with the help of an immersion blender, spice to taste.
Crem of pumpkin
Pumpkin 500 g
Amaretti biscuits 80 g
Orange peel 20 g
Cloves 10 pc
Salt and pepper qs
Cut the pumpkin into large pieces, remove the seeds and add the orange peel, the crumbled amaretto and the cloves. Wrap in sheets of silver paper and bake at 180 ° c for 1 hour and a half. Let it cool. Divide the peel from the pulp, mix the pulp and adjust the taste.
Reduction of Turkish coffee
Turkish coffe with cardamom 50 g
Liquid sugar 5 g
Pour the coffee and the liquid sugar into a pan; reduce by 1/3 and let it cool.
Finishing
Toasted pumpkin seeds
Erbs
Chips
Gold leaves